"We Put Your Family's Health And Well Being First."
Monday - Friday
9:00AM-5:00PM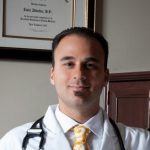 Welcome to Patriot Family Medicine! We are a family practice that provides excellent healthcare service for all ages ranging from infants to geriatrics. Dr. Fadel Abdulhai is a board certified Family Practice physician who has been serving Moorpark since 2008 and is happy to offer his services in Ventura County.  Dr. Abdulhai is fluent in English, Spanish, and Arabic.
Schedule your appointment today!
Walk-ins are welcome!
"Such a warm, caring and open office. I take a lot of initiative in my health and I LOVE that Dr. A is not threatened, annoyed or otherwise dismissive about all my questions, requests for special labs or sometimes what might be silly questions. He's kind, patient and cares about the health of his patients. He literally saved the life of someone my husband knows. Simply an all around wonderful office. His staff is friendly and goes the extra mile for their clients. Even carried a lab slip to the nearby lab for me!! If you are looking for a doctor who cares and want a partner in your health care, this is the place. Don't hesitate to make him your family doctor. So grateful I found him!!"
"Dr. Abdulhai is great at following up. He and his staff truly care about their patients."
"Dr. Abdulhai is a hero. He is an incredibly competent, intelligent, and compassionate physician. Every time I have seen him, he has discussed my health and prognosis thoroughly. He informed me about all of the options I had for my treatment and which would be the most favorable considering the costs and efficacy of every route. If you are serious about your health and want someone who will consider every facet of your life when making a medical recommendation, look no further. I can honestly say that I would trust Dr. Abdulhai with my mother's life any day."
"There's not enough stars you can put for Dr. Abdulhai. Never thought I would leave a review on a doctors page because they normally don't give you the care that they're supposed to but this Doc, he is by far the best Doc I have ever seen. I drove two hours to see him and I will continue to make the drive. I have never had a Doc care to listen about my health problems like this man and he got right on it, I had blood work done in the same day and in no time he had me feeling like a new person. There was no time delay in the waiting area they got right down to business."